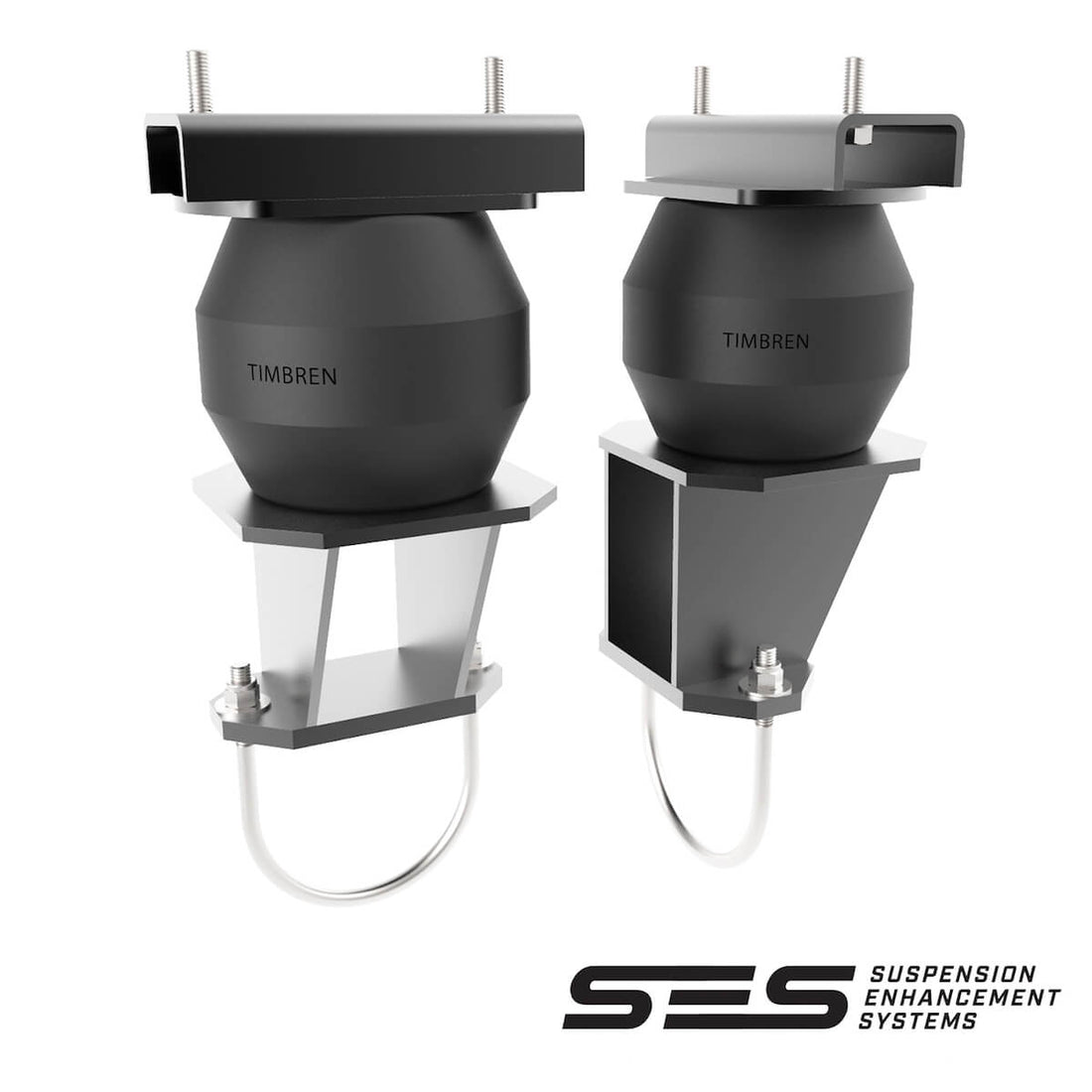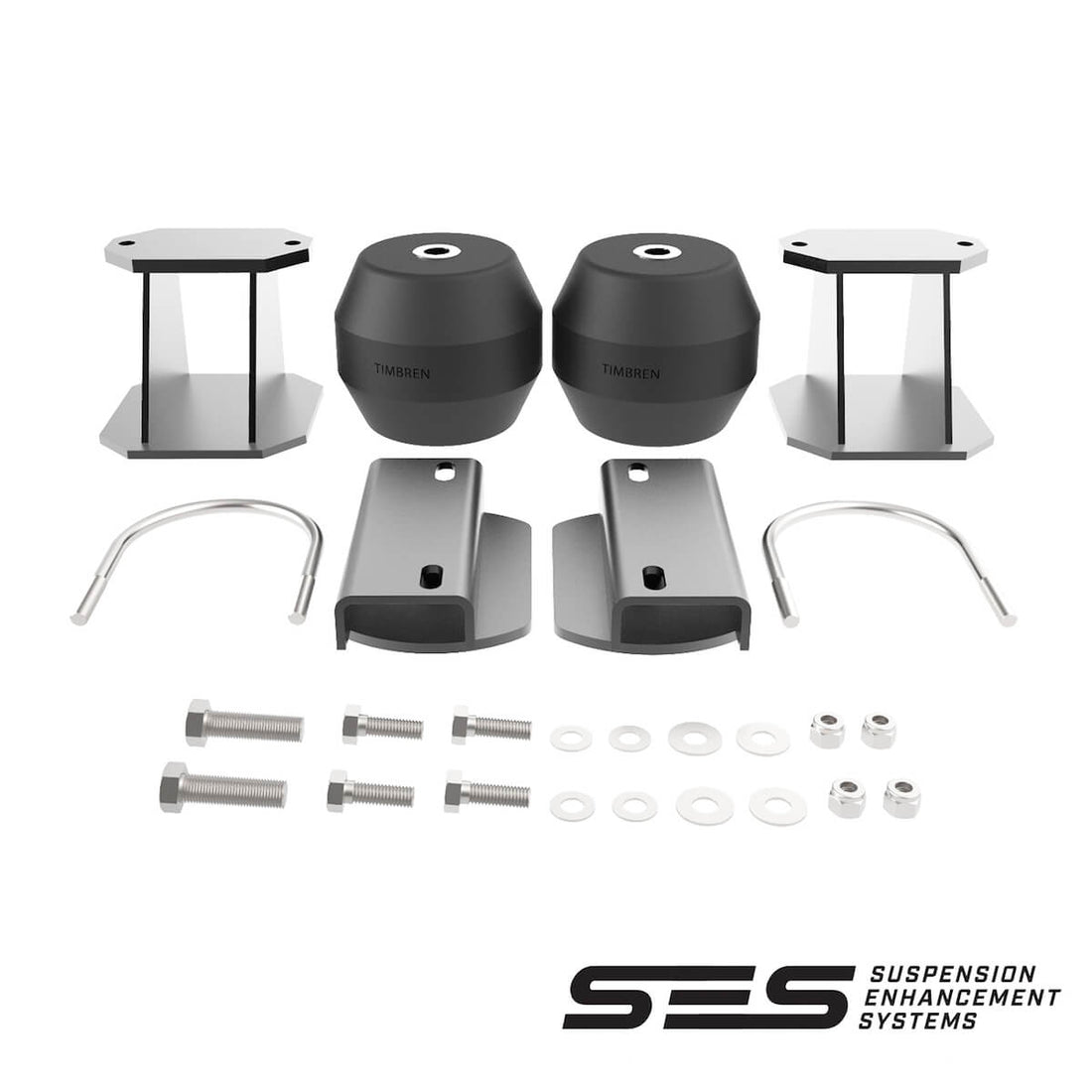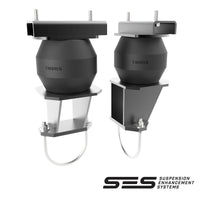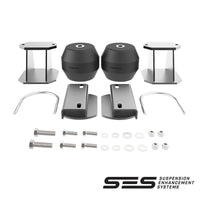 Timbren SES Suspension Enhancement System SKU# DRTT3500 - Rear Severe Service Kit
Free Ground Shipping on Orders Over $99
Lifetime Warranty and 100-Day Money Back Guarantee
Available to ship within 1 week
Maybe you've been there: white knuckles gripping the steering wheel while your truck camper sways back and forth down the highway. Add in some cross-winds, and keeping your vehicle centered on the road just became the kind of drive that makes you second-guess your trip altogether.
Hauling top-heavy loads like truck campers or salt spreaders requires more stability than other towing or hauling solutions. This is when you need our Timbren SES severe service kits.
So what's the difference between our severe service kits and classic Timbren SES kits?
Both products feature the progressive spring rate of our Aeon® rubbers springs. As load increases, our rubber springs push back harder, eliminating squat, sway, and roll.
But our Timbren SES severe service kits use a single-convoluted Aeon® spring. Designed exclusively for truck campers, these springs resist weight more aggressively to keep your vehicle level and your ride smooth. The result? No more white-knuckling it down the highway — you get a safe, stable handling of your top-heavy load.
After installation, there should be a ½" to 1 ½" gap between the rubber spring and vehicle's frame — meaning you'll enjoy a comfortable unloaded ride.
What makes Timbren SES kits different from other suspension enhancement systems? Unlike air bags, our kits require zero post-installation maintenance. Unlike foam, these are durable enough to last under all your loads, in any weather. And unlike other systems, you can install and haul in under 30 minutes, right from your driveway.
Key Features
Made exclusively for top-heavy applications that require maximum stability, like truck campers or salt spreaders
Reduces sag, sway, and roll when hauling top-heavy loads
Comfortable unloaded ride
DIY installation
Zero post-installation maintenance
Specs
Rated Capacity: 7000 lbs
Note: Even though you're increasing the spring rate by adding this upgrade, this does not increase the GVWR (Gross Vehicle Weight Rating). Please make sure that the load does not exceed the GVWR set by the manufacturer.
What's Included
2 x U-bolts
2 x Mounting Brackets
2 x Patented Aeon® SES suspensions (hollow rubber springs)
All necessary hardware
How to Install
Suspension Support Location
Kit Type
Our Timbren SES kits are built to last. We back this up with a lifetime warranty.
Covered under this warranty are defects in material and workmanship, under normal use and service for the life of the vehicle on which the kit was originally installed.
FREE Ground Shipping on Orders Over $99
Free ground shipping is available in the contiguous United States on all orders over $99. Normal processing time is between 1 – 2 business days from placing the order.
We make every effort to ship the order within this processing time; however, no guarantees are expressed or implied.
100-Day Money Back Guarantee
If you're not happy with your Timbren product, we want to remedy that. If our customer service team can't find a solution for you, you can return your Timbren product for a refund, a replacement product, or another product of similar value within 100 days of purchasing the product. We'll cover return shipping costs, too.
See Our Springs in Action
Install right in your driveway, no special skills or tools needed. Be ready to ride and haul in less than 30 minutes.
Our Aeon® springs feature a progressive spring rate. As load increases, our rubber springs push back even harder to level your load. Our springs also act like a shock absorber. This makes for a smooth, controlled ride loaded or unloaded.
From the beating heat of the Australian Outback to the sub-freezing winters of Canada, our Timbren SES kits are built to last in any conditions. They're durable, too. In fact, our Aeon® rubber springs are even tougher than bullets.
Better than air, metal & foam
See how we stack up against other suspension enhancement systems.
| | Timbren SES | Air Bags | Add-a-Leaf | Foam |
| --- | --- | --- | --- | --- |
| Price | $297 | $2,500 | $500 | $299 |
| Rated Capacity | 8,600 lbs | 5,000 lbs | 1,500 lbs | 1,000 lbs |
| Best Progressive Spring Rate | | | | |
| DIY Install | | | | |
| Improved Ride Quality | | | | |
| Durability | | | | |
| No Additional Parts Needed | | | | |
| Lifetime Warranty | | | | |
| 100-Day Money Back Guarantee | | | | |
Your questions, answered
You want all the info before choosing the right towing and hauling solution for you. And we want to help.
Nope. Unlike air bags, there's no need to run air lines, check pressure, or watch for leaks. Our SES kits are a true set it and forget it solution.
Our Timbren SES kits are a helper spring for hauling and towing. Are they durable enough to go off-road? Absolutely. But if you are looking for a product built exclusively for absorbing harsh slams on the trail, our Active Off-Road Bumpstops are for you.
Our SES kits are designed to work on vehicles with factory ride height. But that's where our Timbren SES Spacer Kits step in to fill the gap. With our spacer kits, your lifted vehicle can still benefit from the smooth, level ride that our SES kits offer.
No. Unlike Add-a-Leaf solutions, your unloaded vehicle's ride height will remain unaffected by the installation of an SES kit.
Top-heavy loads that require maximum stability, like truck campers or salt spreaders, require the severe service kit upgrade. All other hauling and towing situations are covered by our classic Timbren SES kits.