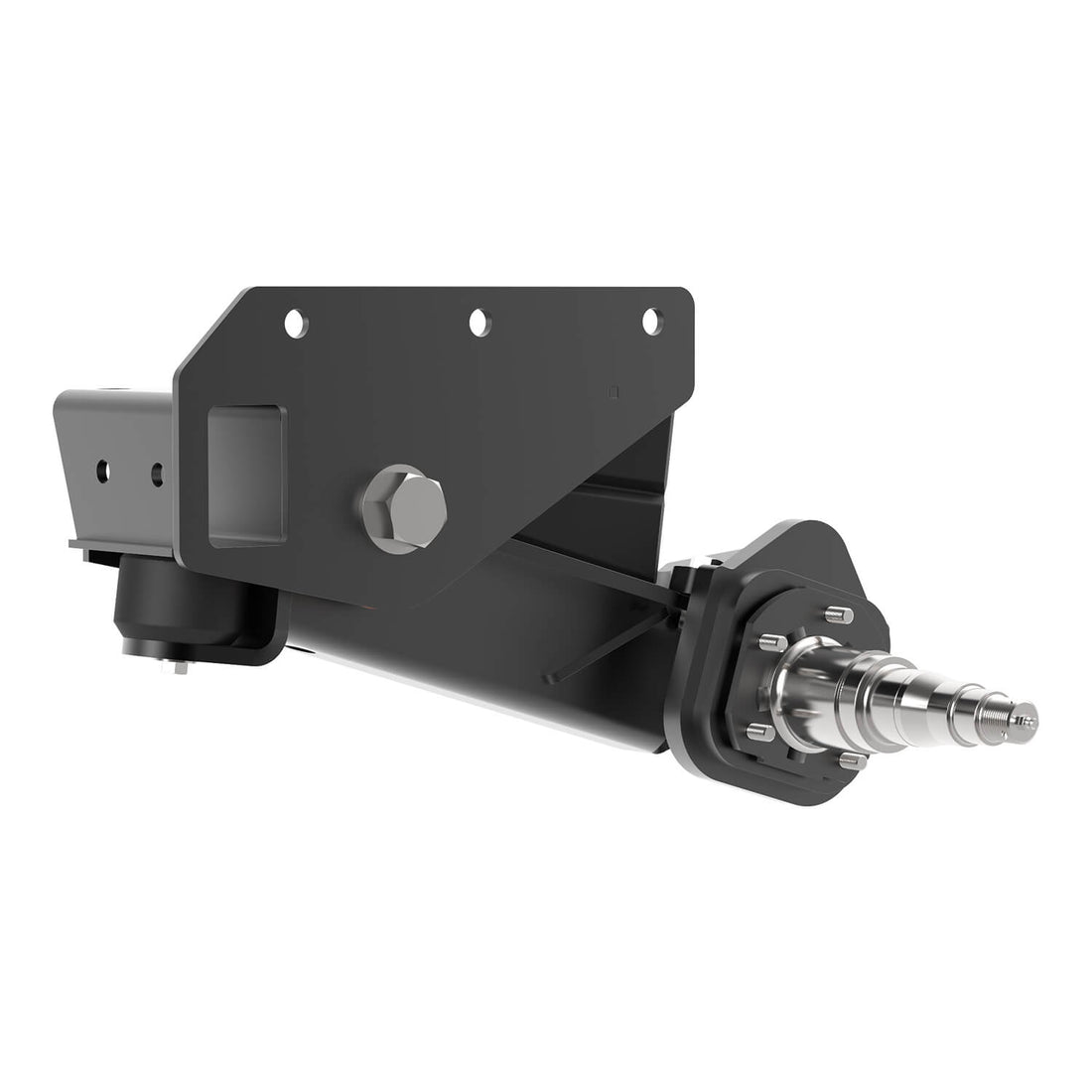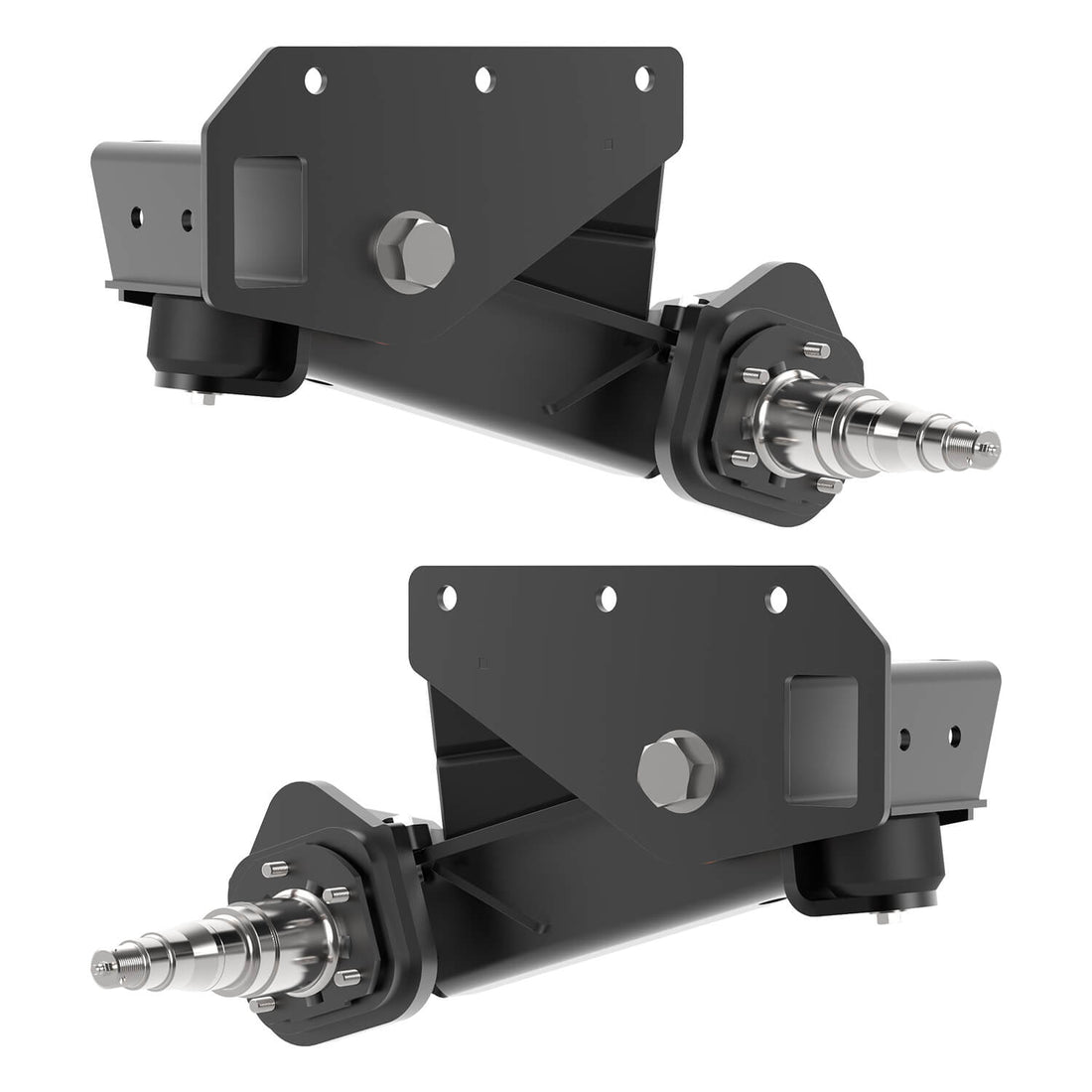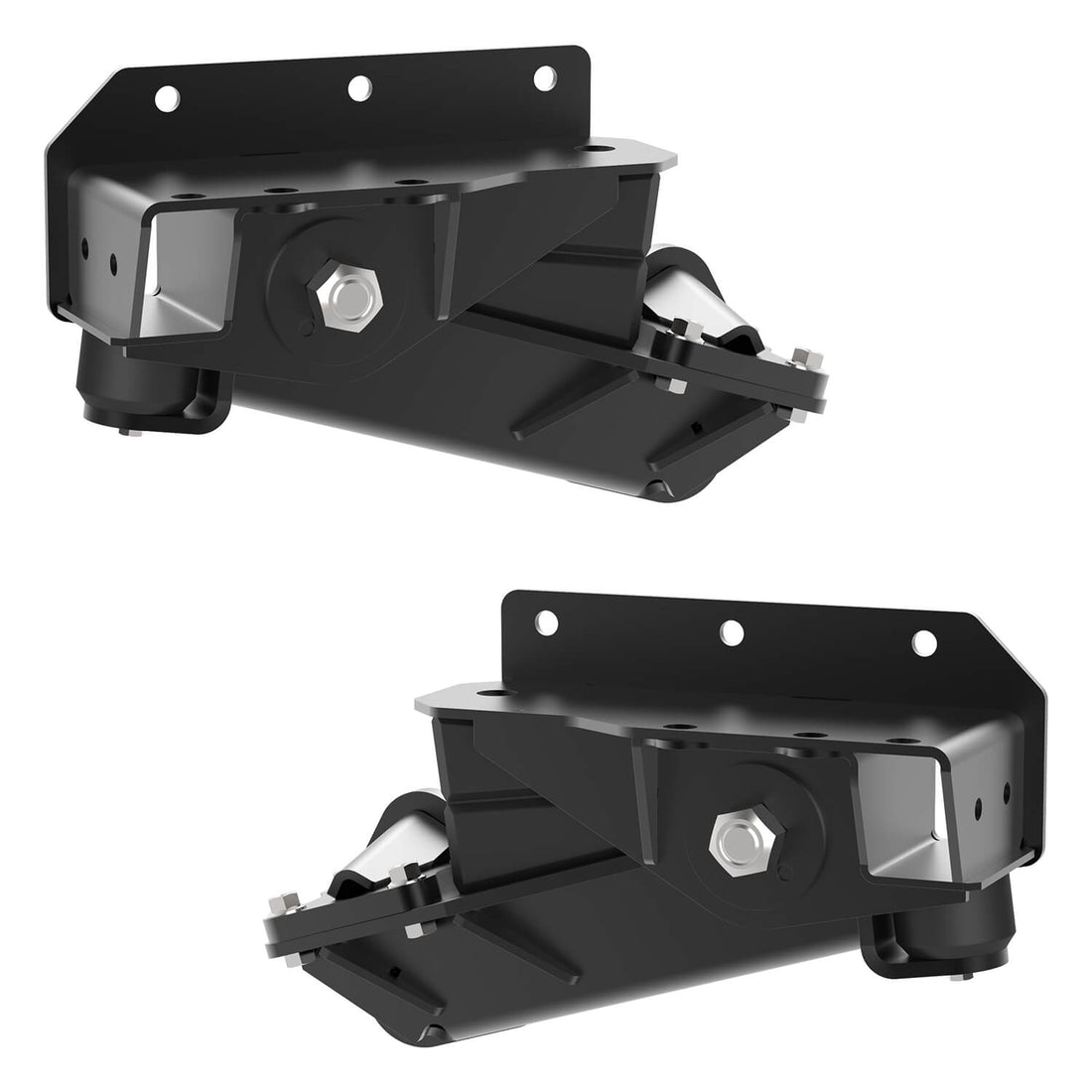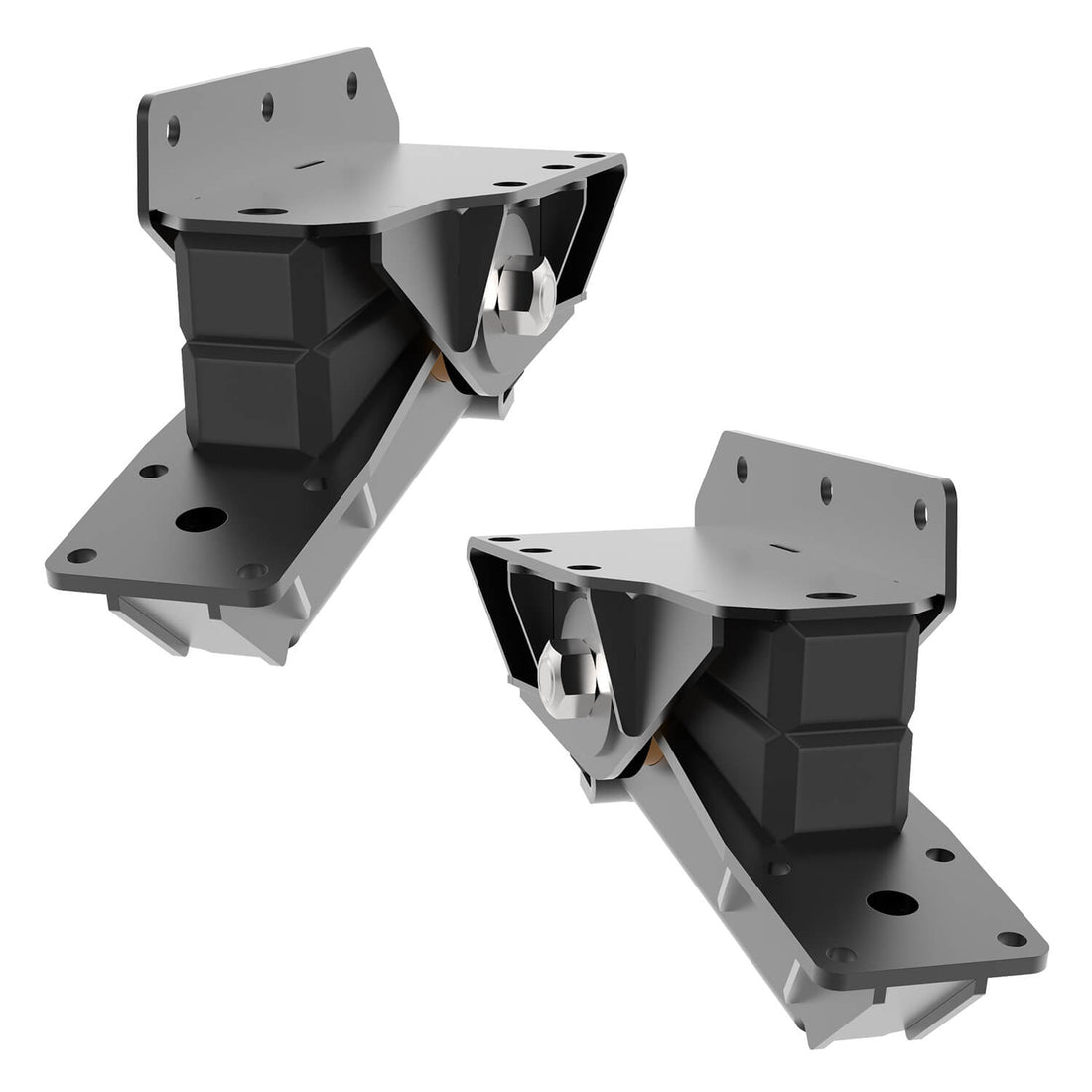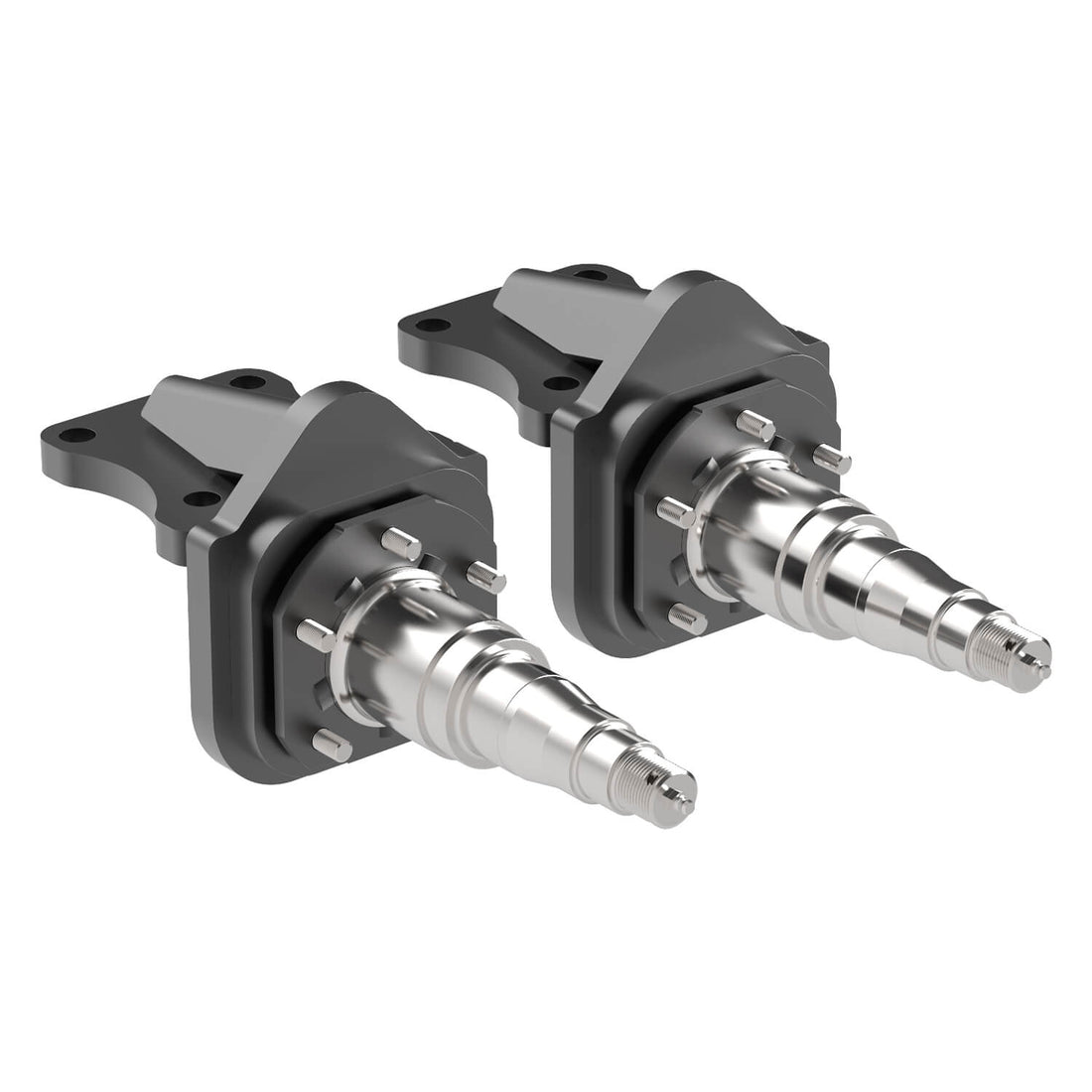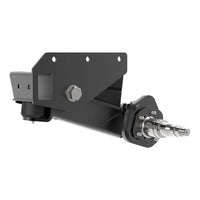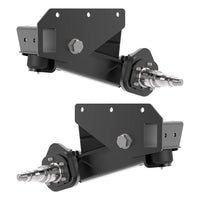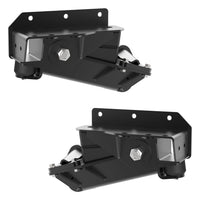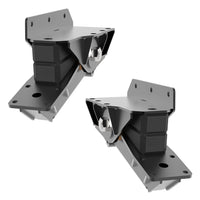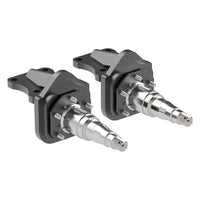 3500 lb HD Axle-Less Trailer Suspension w/ 4" Lift
Free Ground Shipping on Orders Over $99
Available to ship within 2 weeks.
Go off-the-grid with your camper. Tow your hunting trailer to remote trails. Take your custom rig on that overland trek.
Our HD Axle-Less trailer suspensions are built exclusively for off-roading and overlanding. With no through axle to cause hang-ups, you'll experience exceptional ground clearance. And as an independent trailer suspension, you'll maintain maximum control of your rig over rough off-road terrain.
Components made from heavy-gauge steel support the increased demands of off-road use. And our softer Aeon® rubber spring allows for more suspension travel without compromising strength or capacity.
Shims are also supplied giving you the option to adjust, if necessary, the suspension alignment and camber specific to your trailer frame. Polyurethane bushings — used at the pivot point on the control arm — hold the pin firmly in place, resulting in better stability and a more controlled alignment with each moving component.
Durable and weather-resistant, these suspensions are built to last in any environment, from the heat of the Australian Outback to the sub-freezing winters of Canada.
So you can tow anywhere you go — and enjoy a smooth, quiet ride along the way.
Each Axle-Less trailer suspension kit comes with both driver and passenger side to give you a full suspension.
Key Features
4" lift outboard arms give you maximum ground clearance
Standard spindles for use with standard-width tires 235/85R16 or smaller
Components made from heavy-gauge steel support off-road and overland demands
HD gussets for maximum reinforcement
Patented Aeon® hollow rubber spring for smooth, quiet ride empty or loaded
Polyurethane bushings balance out performance, durability and comfort
Brake flange Included for optional brakes
Durable powder coat finish
Easy bolt-on installation
No thru axle
Specs
3500 lb trailer suspension capacity
Outboard arms with standard spindles for tires 235/85R16 or smaller
Weight and Dimensions
Choosing A Trailer Suspension
The optimal performance of an Axle-less system is achieved when the average load on the suspension falls within the range of 60 to 80 percent of its rated capacity. For example, a standard ASR35HDS Axle-less suspension with a load rating of 3500 lbs would operate most effectively with an average load between 2100 and 2800 lbs (950 to 1270 Kg).

It is important not to overlook scenarios of maximum load: In addition to the regular weight, consider all sources of extra weight: a full water tank, waste water tank, loaded fridge, generator and any other type of equipment, spare tire, one or two 12V batteries, water hose, power cord, and a propane tank, tent, ladder, tools, etc.

Keep in mind that the load distribution also plays a big role. In the case of a tandem trailer, due to a number of factors (including the height of the hitch, or distance between axles, etc) the load on the front axle could happen to be different that the rear axle. The weight on the left side could also be different from the right side. So one axle or even one corner could potentially be overloaded even if the trailer is not overloaded! Always follow safety guidelines and leave plenty of extra room for weight when choosing your suspension. This isn't just about safety; it's also about getting the best ride quality and handling for your trailer.

If you need further assistance in selecting a suspension for your trailer. Please reach out to Timbren's Customer Service Team.
Suspension Capacity
Ride Height
Spindle Arm Length
Brake Flange
We offer a 3-year warranty on our Axle-Less trailer suspensions.
Covered under this warranty is the replacement of the failed part. This warranty does not include labor, freight, collateral damage, or any ancillary costs which may arise as a result of the failed part. We retain the right to make our own inspection of the failed part to determine the validity of the claim.
FREE Ground Shipping on Orders Over $99
Free ground shipping is available in the contiguous United States on all orders over $99. Normal processing time is between 1 – 2 business days from placing the order.
We make every effort to ship the order within this processing time; however, no guarantees are expressed or implied.
Returns
If you're not happy with your Timbren product, we want to remedy that. If our customer service team can't find a solution for you, you can return your Axle-Less trailer suspension for a refund within 100 days of purchase. Product cannot have been mounted to your trailer, and return shipping is not covered by Timbren.
See Our Suspension in Action
Our Axle-Less design features our Aeon® rubber spring technology.
Install your Axle-Less suspension in a few simple steps, with just a few tools you already have on hand.
Whether building a custom rig or retrofitting an existing trailer, here's how to pick the right Axle-Less suspension.
Stay in control of your tow no matter what obstacles you encounter.
Axle-less suspensions aren't only for off-roading. Enjoy a smooth, quiet ride for your utility trailer, too.
Better than Torsion, Leaf Spring & Trailing Arm
Axle-Less trailer suspensions are a leader in the industry for a reason — more than one reason, actually.
| | Axle-Less Trailer Suspension | Torsion Suspension | Leaf Spring Suspension | Trailing Arm Style Suspension |
| --- | --- | --- | --- | --- |
| Price | $784+ | $649+ | $300+ | $1,800+ |
| Requires Axle | No | No | Yes | No |
| Improved Ride Quality | | | | |
| Durability | | | | |
| Off-Road Capable | | | | |
| Maximum Ground Clearance | | | | |
Your questions, answered
You want all the info before choosing the right trailer suspension for you. And we want to help.
If you need maximum ground clearance for off-roading, Axle-Less Trailer Suspension is the way to go. If you don't require ground clearance and want to utilize axles as part of a retrofit, the Silent-Ride Trailer Suspension is your best option.
Axle-Less trailer suspensions are fully independent and do not require an axle, allowing for ultimate control of your rig.
A torsion trailer suspension, on the other hand, is housed within an axle tube and isn't designed to hold up to the abuse and rigors of off-road or overland travel.
Our jounce and rebound springs are made from natural rubber, with all the unique characteristics that make our Aeon® springs a leader in towing and hauling.
The capacity rating represents one complete Axle-Less trailer suspension (i.e. both sides).
Yes. Some maintenance is required, such as greasing the pivot bushings and wheel bearings.
For detailed maintenance information, refer to the maintenance notes included with the installation instructions.
To begin, you'll need to make sure the frame is perfectly square. Additionally, some trailer frames require additional support, like an extension plate to allow bolts to be installed vertically. This would eliminate the use of a cross-member, allowing you to achieve maximum ground clearance.
Have questions? Reach out to one of our resident suspension techs about your trailer project to determine whether Axle-Less trailer suspension is right for you.